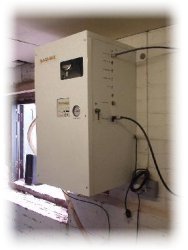 Welcome
We produce nitrogen generation and gas mixing equipment primarily for dispensing beer.
Our equipment uses membrane based gas separation technology to produce nitrogen from atmospheric air.
We are an independent company based in Somerset and in Dublin R.O.I. with agents across the globe including USA, Sweden and Ireland.
Click an image to view it.
Latest News

2008-03-17

Maxi-Mix celebrate the installation of their 1000th mixed gas dispense system.

2006-06-01

A new high purity version of the Maxi-Mix nitrogen generator has been developed.